Now entering its 33rd year, the prestigious Dulux Colour Awards celebrate courageous and innovative uses of colour in the home design industry. With a record 300 entries, the 2018 awards drew emerging and established designers and architects from across Australia and New Zealand to a gala event at the National Gallery of Victoria in celebration of the winning projects, which were recognised across nine categories.
Here, Western Australia Home Design + Living showcases the stunning local entries that are sure to inspire creative and considered uses of colour in your next home project.
Located at the end of a 1990s-reproduction Georgian mews, this townhouse was tired, unremarkable, and in desperate need of a renovation. The upper floor was a warren of rooms and dark corridors while the ground floor had no spatial presence, and the courtyard had all but diminished in importance. Simon Pendal Architect was asked to transform the two-storey residence into a cohesive whole.
The team envisioned the revived townhouse as a sequence of set pieces in which daily life would be intensified. This concept evolved on two principal fronts, firstly to accept or embellish the decorative parts of the original interior – such as the ornate skirtings, ceiling roses, cornices, and plasterwork – and treat each space as a 'casting', and secondly to intensify these 'cast' spaces through the use of a single colour per room on the floors, walls and ceilings.
Immersion within the striking rooms (white for the bedrooms, emerald green for the kitchen, black within the niche spaces and the dressing room, and Prussian blue for the upper sitting room) suspends people and objects in a singular thick space with a specific atmosphere that correlates to its intended use. Transitions between the rooms are amplified by vivid colour changes, which orchestrate a powerful sequence from one space to the next. Inspiration for the Prussian-blue room in particular arose from the architect's interest in making spaces that replicate the strong contrasts of Chiaroscuro paintings.
To achieve these set-like qualities, Simon Pendal Architect sought an accord between colours, their alignment, and the use of artificial and natural light. Pendant light fittings were selected to complement each room's tone and colour. These either recede to amplify the effect of pooled light (as per the white fitting within the white kitchen niche, and the black fitting within the Prussian-blue room), or become objectified to contribute to the room's composition (such as the white pendant in the scaled corner of the Prussian-blue room). Elsewhere, white alcoves and portals become illuminated vessels, such as the stair portal and alcove, which were designed to act as lived scenery.
Natural top light was strategically incorporated to intensify luminous niche spaces, and diaphanous linen curtains were selected to temper Perth's harsh light and create an effect that is almost fog-like.
JUDGES' COMMENTS:  "A clear, concise concept at the heart of this entry separates it from the rest. With bold hues cutting through a base of white, the internal spaces are cleverly defined, while a play of gloss and matte paint finishes adds another dimension to the form. There is no subtlety here; instead there's an unwavering commitment to the use of contrasting tones to delineate the interior." – David Flack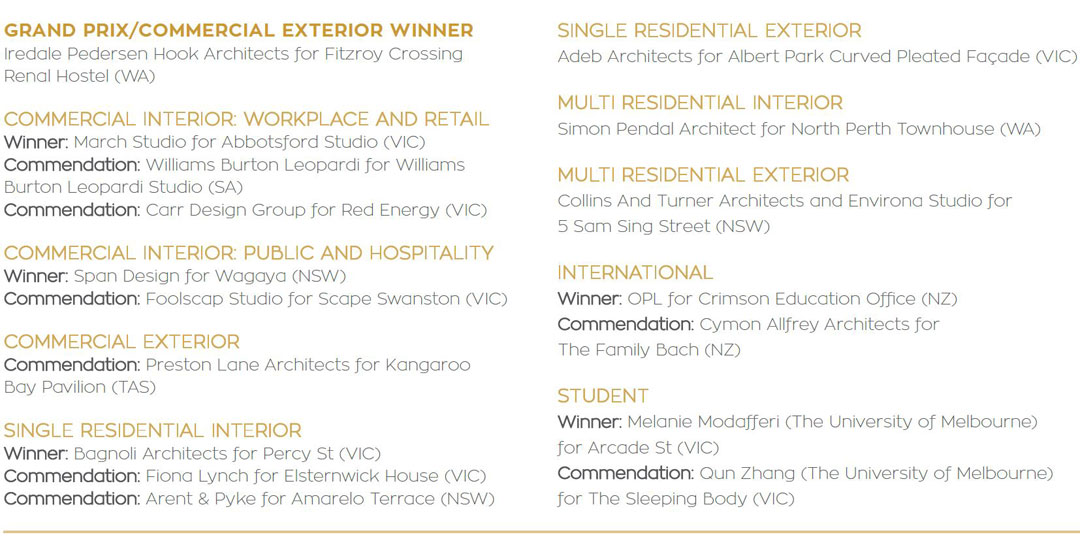 Top Image Credit: North Perth Townhouse, photography by Robert Frith
Middle Image Credit: Refined Edge by Brian Burke Homes
Bottom Image Credit: Grand Prix winner, photography by Peter Bennetts