There is something so enticing about hosting a gathering or throwing a party from the comfort of your own home. Making your abode the perfect setting for entertaining doesn't happen overnight – it starts with the design. Here, director of Mondo Exclusive Homes, Ray Kershaw, discusses emerging design trends in modern homes and how to tailor your living spaces around a social lifestyle.
The modern home design is less rigid than its classic counterparts, favouring multifunctional spaces over traditional living quarters. These multifunctional zones are integral in cultivating a home that is conducive to entertaining. "Our clients want rooms that can grow with their families and change to suit their requirements," Kershaw echoes.
COMPLIMENTS TO THE CHEF
The kitchen is no longer a small space tucked away in the corner of a property. Now, the kitchen stands proudly as the centrepiece of the modern home. "All kitchens these days overlook the family and dining area, so they become a real hub of the home," Kershaw says. Expansive island benches continue to dominate contemporary kitchen designs, offering a practical cooking station and an informal dining area perfect for drinks, nibbles and socialising. Your island bench should be large enough to accommodate seating to create a welcoming environment for guests. Homeowners can take this further by installing a stovetop and safety rangehood within the island bench for simultaneous cooking and entertaining.
While a kitchen should promote socialising, it should also be functional. An entertainment- worthy abode should focus as much on what guests don't see, so ample cabinetry and storage options should be installed in the kitchen to avoid clutter. Homeowners can also achieve this by building recessed shelves at either end of the island bench to store alcohol or other display items.
AN OPEN RELATIONSHIP
The modern home design has evolved beyond structured rooms in favour of open-plan spaces that combine kitchen, living and dining areas. Rather than constructing spaces dedicated to a singular purpose, open-plan living offers freedom in your home design. "Clients are looking for multifunctional rooms. One day it's a formal lounge, next it's a game room, then eventually a theatre room," Kershaw says. The beauty of an open-plan design goes deeper than functionality. Since there are no awkward transitions between zones, the design encourages easy mingling between guests and improved social interaction for visitors and family alike. Open-plan living also allows for greater supervision for families with young children.
Even with the numerous benefits of an open-plan design, there are practical factors that homeowners should consider. A sparse kitchen, living and dining area can appear too bare and clinical; the antithesis of a successful shindig. Conversely, overcluttered, busy zones can be a sensory overload for guests. These areas should feel open, but the spaces should be clearly defined. Rugs, wall furnishings, art dividers and buffets are the perfect ornaments to establish focal points within your home, and they also offer guests a sense of privacy in a party setting. "Fireplaces are making a massive comeback, it's not just about the TVs these days," Kershaw adds. A fireplace distinctly characterises a living area and generates warmth in a home, creating an inviting ambience for your guests to enjoy. Homeowners should be sure to factor in heating and cooling for an open-plan design. "Heating and cooling need to be considered as it's hard to close off areas to control temperature," Kershaw says. Kershaw has noticed an emerging trend in cavity sliding doors to close off areas within the home to preserve the desired temperature for everyday living and entertaining.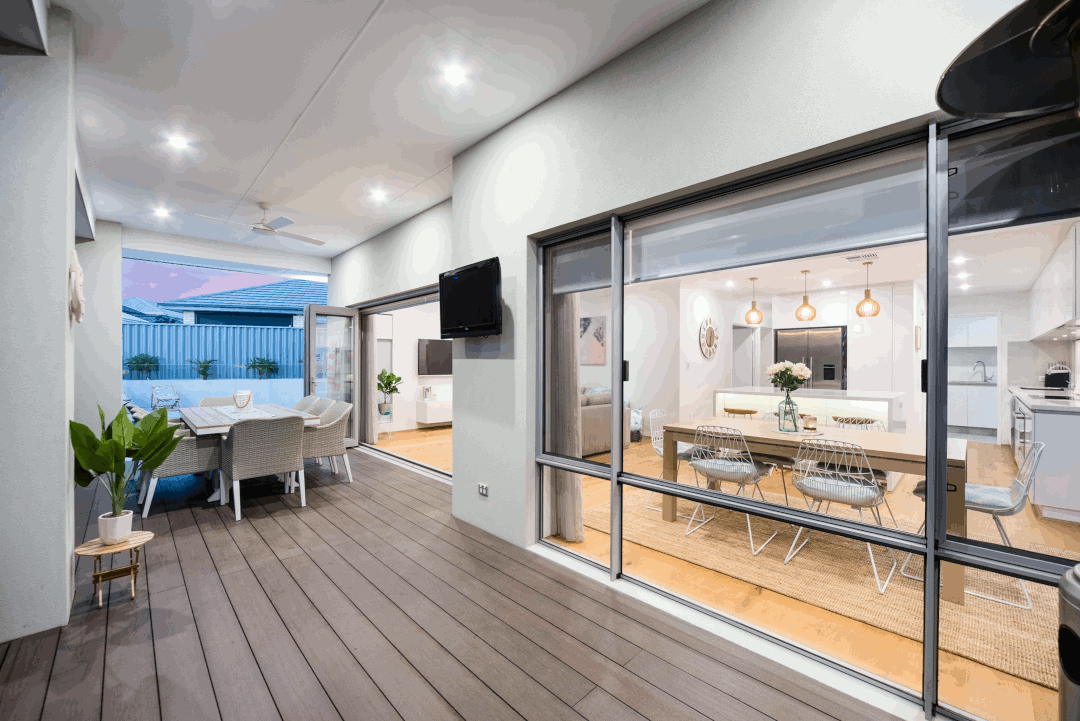 ALL ABOUT ALFRESCO
If the modern-day kitchen is the entertainment hub of the home, then the outdoor dining area is hot on its heels. Outdoor living and barbecue areas are synonymous with Australian living, and builders are paying more attention than ever to these zones. "The outdoor zones are now just an extension of the house and people want their doors to open as wide as possible to really bring the two areas into one," Kershaw says. It's this cohesiveness that is crucial in cultivating a social atmosphere. As with open-plan living quarters, guests want to be able to move freely between indoor and outdoor dining areas. "Same ceiling heights in and out is a nice feel as well as high sliding doors with recessed sills so you don't have a trip hazard. This makes it feel like one room rather than stepping over into another zone," Kershaw explains.
SET THE MOOD
Lighting might be an afterthought for some homeowners, but when employed correctly, it can set the perfect tone for your party or gathering. Kershaw recommends utilising natural light wherever you can with skylights, highlight windows and glass sliding doors. For smaller blocks, these methods of incorporating natural lighting can even offer the illusion of more space. "Anything to give the eye something to look out towards will help maximise the feeling of space," Kershaw says. Kershaw has also noticed app-controlled LED lights are growing in popularity with homeowners, allowing you to set the desired tone, brightness and colour of the LED lights to establish the right vibe for your guests.
MAINTENANCE AND UPKEEP
Being the chief host amongst your friends and family does have one major drawback; the clean-up. There's no way to avoid it, but the right build features can help streamline the cleaning and maintenance of your home. Your kitchen and bathroom counters often bear the brunt of a great night with stains, scratches and spills. For longevity, Kershaw suggests building counter tops from non-porous materials that are resistant to these external factors, like Caesarstone and Quantum Quartz. For your interior floors, Kershaw swears by polished concrete for its sturdy, hardwearing nature, "it's just such a hardy floor and maintenance-free." Underfloor heating can even be installed during the build process for those who feel the chill in Winter.
There are countless ways homeowners can reinvent their abodes or imbue designs with features that are tailor-made for entertaining, but Kershaw is always sure to remind clients to consider their personal preferences first. "Consider how you entertain and not how someone else does."
Images courtesy of Mondo Exclusive Homes